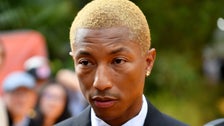 Pharrell Williams didn't realize "Blurred Lines," the infamous 2013 song he co-wrote with Robin Thicke and T.I., was problematic until he had an epiphany after it was released. 
The rapper and songwriter reflected on the controversial song in a recent interview with GQ for the magazine's November issue centered on masculinity. Williams said he had his feminist awakening after "Blurred Lines," which was highly criticized as encouraging rape culture with song lyrics like, "I know you want it."
At first, Williams said, he didn't understand the criticism. But now, six years since the song debuted, Williams told GQ he's "embarrassed" to have been part of the song. 
"When there started to be an issue with it, lyrically, I was, like, What are you talking about?" Williams said. "There are women who really like the song and connect to the energy that just gets you up. And I know you want it ― women sing those kinds of lyrics all the time. So it's like, What's rapey about that?"
Williams said he had a moment of realization when he acknowledged that the language was harmful and often used to hurt women. 
"And then I realized that there are men who use that same language when taking advantage of a woman, and it doesn't matter that that's not my behavior," he added. Or the way I think about things," he added. "It just matters how it affects women."
He realized that it didn't matter what his intentions were when writing the song, but how the lyrics made women feel. 
"I realized that we live in a chauvinist culture in our country. Hadn't realized that," Williams added. "Didn't realize that some of my songs catered to that."
Head over to GQ Magazine to read Williams' full interview. 
REAL LIFE. REAL NEWS. REAL VOICES.
Help us tell more of the stories that matter from voices that too often remain unheard.