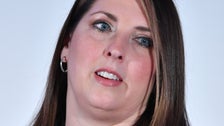 Republican National Committee Chairwoman Ronna McDaniel attacked Hunter Biden on Tuesday for using his family connections ― only to get called out by Twitter users for the exact same thing.
McDaniel is the niece of former presidential nominee and current Utah Sen. Mitt Romney, but didn't mention that minor detail in a tweet attacking the son of former vice president and current presidential candidate Joe Biden.
Let me get this straight…

Hunter Biden got $50K a month from a Ukrainian energy company, despite having ZERO experience in energy.

His justification?

That he was also on the board of Amtrak – more obvious nepotism.

If that's not the swamp, I don't know what is!

— Ronna McDaniel (@GOPChairwoman) October 15, 2019
Luckily, many Twitter users quickly reminded McDaniel that she may not be the best person to criticize political nepotism.
Um, aren't you the niece of a former GOP presidential nominee and the granddaughter of a GOP governor…?

— Pé Resists (@4everNeverTrump) October 15, 2019
A nepotism niece says WHAT?

— Some Other Cow (@whiskyfoxtrotta) October 15, 2019
I don't know if you quite understand what nepotism means, Niece of Mitt Romney.

— Estacia 💫 (@MoonWomanGlow) October 15, 2019
I mean seriously, a member of the Romney family tsk-tsking someone about trading on the family name? Puh-lease.

— Felina (@FelinaBlanc) October 15, 2019
Some Twitter users felt McDaniel was on to something, but wished she'd take things further.
Now do Ivanka and Don Jr.

— Byron Sebastian (@sebastian_byron) October 15, 2019
You don't? Let me help. Javanka made $82M last year while working at the WH. They have no experience. Ivanka got dozens of expedited Chinese trademarks. Jared is making secret deals with the Saudis. China gave $500M to a Trump project in Indonesia being overseen by Don Jr. & Eric

— Facts Do Matter (@WilDonnelly) October 15, 2019